One of the popular staples on any good bingo site is Keno. You can take the chance to play this great side game on your favourite bingo site. Whether you fancy trying something different or are passing the time till your next bingo game starts- now is the time to give Keno a shot. Bingo and Keno go together like cheese and fine wine. So what are you waiting for?
Best Sites with Keno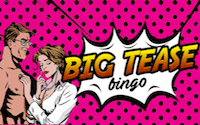 Big Tease Bingo
Unlock 25 free spins, free bingo & up to £200 in bonus funds! We're not teasing!
T&C's Apply.
Variety is the calling card of any bingo site worth its salt. Look for sites which offer a wide range of games. This will allow you to gain an experience of not only keno but also of many different slot and bingo games. Look out for promotions. You could earn yourself a wealth of additional bonus credit on your deposit by keeping abreast of the latest promotions. On the sites above, you are guaranteed not only a great deal of gaming choice but also some stellar promotional offers.
How to Play Keno
Keno, as mentioned earlier, is a lottery game. Once you've selected your bet, you'll be asked to select numbers. Some keno games will limit the amount of selections you can make to 5, some will allow you to choose more. Once both your numbers and bet have been selected then you're ready to play. Hitting the play button will prompt the game to begin releasing numbers. As the numbers come out, you will be able to see if any of them match the numbers you selected. The more numbers you match, the higher your payout will be. Different games and different casinos will vary the rate you will be paid back per number. As with many games, the higher your stake, the higher your pay out on a win is likely to be. Keno is a fast-paced game which is slightly different from the format of other games. Whilst many of these games can take a board game or scratch card format, this game relates more closely to bingo.
Keno vs Slots
Keno is a great choice of side game as it is quick-fire and low budget. As Keno as a side game, you'll won't be able to bet a large amount of money on a single spin. Many have a maximum of 10 credits per play. If you are a high roller who enjoys the thrill or a big bet, then Keno may not be the game for you. For bingo players, who enjoy fast-paced games such as Swedish bingo, speed bingo or even 90 ball- Keno may just be the side game you are looking for. There are many similarities between Keno and bingo games. Even those who enjoy playing lottery will appreciate the beauty of this game. It is very simple to understand. There are no complicated bonus rounds in Keno nor are there a host of bonus symbols to get to grips with. Keno can be grasped in seconds and provide excellent entertainment.
One of the main reasons that players may be likely to play slot games over Keno, is its lack of colour. There is very little in the way of themes in these games. Whilst slot games can attempt to transport you anywhere from ancient Egypt to the tropical desert, Keno is very plain in comparison. Slot games can also far more variety in terms of betting scale. There are slots on the market which may allow you to wager up to £100 per spin. Similarly, the pay outs on Keno are unlikely to be as large as its slot counterparts especially as there are no progressive Keno jackpots.
All in all, Keno is a great side game. It can provide ample entertainment between bingo games and slot games and is fantastic for the budget bettor. Try it on one of the web's new bingo sites today.