When you want to play bingo it can be good to try something new, while still having the same fun and games. This is where bingo variants come in, as they can switch up boring old bingo games with something totally different.
Best Sites To Play Hybrid Bingo Games
Bingo sites with hybrid games might be prolific but not all of these offer players the best deal. If you'd like to head to a bingo site to check out some new types of bingo then we suggest that you go to: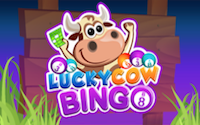 Lucky Cow Bingo
Enjoy video bingo & win up to 500 free spins with a £10 deposit!
T&C's Apply.
new players only, min deposit £10, £8 max win per 10 spins, max bonus conversion equal to lifetime deposits (up to £250), 65x wagering requirements and full t&cs apply
new players only, min deposit £10, £8 max win per 10 spins, max bonus conversion equal to lifetime deposits (up to £250), 65x wagering requirements and full t&cs apply
Lucky Touch Bingo
Unlock up to 500 free spins!
T&C's Apply.
new players only, min deposit £10, £8 max win per 10 spins, max bonus conversion equal to lifetime deposits (up to £250), 65x wagering requirements and full t&cs apply
new players only, min deposit £10, £8 max win per 10 spins, max bonus conversion equal to lifetime deposits (up to £250), 65x wagering requirements and full t&cs apply
We all know how to play the usual 90 and 75 ball bingo games, but variants come in all shapes and sizes – as the name suggests. They can sometimes be known as hybrid bingo if they combine elements of other games within them or just plain old variations of bingo if not.
Traditional Versions vs Bingo Variations
There are a few traditional versions of bingo that you'll find on most sites:
90 Ball Bingo
This is the biggest version of bingo in the UK, as it's the traditional way to play. With a rectangular grid, players can win by completing one, two or all three lines (known as a full house).
80 Ball Bingo
80 ball bingo skirts the line between 75 and 90 ball bingo, without rocking the boat too much. In this version of the game, you'll be given a bingo card with a 4×4 grid on it and you'll want to cover every number. If you find 90 ball bingo a little too slow or 75 ball a bit too fast, then 80 ball bingo will help you split the difference.
75 Ball Bingo
When you play this version of the game, you will see a square game grid with one free space in the middle. To win, you may have to complete the entire grid or to dab off numbers in a certain pattern.
50 Ball Bingo
Speedier still, 50 ball bingo is a bit harder to find on bingo sites as they don't all have it. The cards in this game just have 10 numbers to dab off and games can take under a minute to win.
30 Ball Bingo
The fastest bingo game of them all, 30 ball bingo has just 9 spaces on the card. The first one to dab off all of them is the winner in this game!
Video Bingo
Video bingo is one of these variants, as it is a mixture of bingo and a slot game. This can be exciting for players who don't want to wait for a new bingo game to start and want to set their own stake. It can also be referred to as Multi Stake Bingo on some sites. This is usually played in the 75 ball form of the game, so it's a similar game on slightly different terms.
Swedish Bingo
Swedish Bingo can also be called 5 line bingo, as some of our savvy bingo players will be aware, and it's a much faster way to play. This is standard 75 ball but the grid is slightly different to the standard won but there are more ways to win too!
Card Games with a Bingo Twist
If you enjoy playing bingo games with a twist, then these card themed ones may be for you:
Joker Jackpot Bingo
Joker Jackpot Bingo is just like bingo but this one takes away the balls and exchanges them for cards. You'll get 9 cards dealt from a deck in a square and you'll want to make a J pattern as the cards are called. This is one of the more difficult bingo variations to get accustomed to but once you do it can be really fun. On Super Joker Jackpot Bingo you'll get a chance to win a progressive
jackpot, so you can choose which way you want to play.
Flash Fives
You may have encountered this online bingo variant as it's incredibly popular. Players have 5 cards in each hand, then the cards are pulled from the deck by the bingo caller. Match them all up and you'll be a winner.
TV Show Variants
Adding in elements from the box, we have the TV show variants like these ones:
Deal or No Deal Bingo
This is a 90 ball game with the winner taking their jackpot and attempting to beat the banker with it. They'll go head to head against those red boxes to win a larger jackpot from the banker.
Who Wants to Be a Millionaire Bingo
This version of bingo puts you in the hot seat to win a larger jackpot. If you're the kind of player with a lot of general knowledge then you can win a whole lot more from this game.
Britain's Got Talent Bingo
Step on stage and you could win big with this version of bingo. There are a total of 6 jackpots in this game, with one of them being a progressive jackpot that just keeps getting bigger.
X Factor Bingo
Don't worry if you're not the best singer, this game doesn't require you to take the mic. It's fab, glam and filled with a lot of fun too.
Slot Themed Variants
Often slots get so popular that developers cross them over into the world of bingo, these include:
Immortal Romance Bingo
This vampire themed game can be found on Microgaming sites, with the popular characters from the main game appearing on the cards. The jackpots can be huge and the action is always terrifying.
Rainbow Riches Bingo
The cheeky leprechaun from the main game is back in this emerald bingo game. You'll love the jackpot action that the game has to offer and the fun is nonstop.
Slots
These games can come in many shapes and forms, boasting the following features:
Classic Slots – These simple slot games are the ones that you see in pubs. With three reels and a payline in the middle, there's not much to them but they can stilldeliver massive jackpots.
Video Slots – Video slots take that classic formula and add a new twist to them. They usually have bigger and better graphics to make them more appealing.
Multiline Slots – Slots with more paylines give you more opportunities to win, what's not to love? They can allow you to win big, though on some games you'll need to wager more for the privilege.
3D Slots – Slot games that have 3D graphics are becoming ever more popular, as players love the immersive action.
Slots with Bonus Features – Free spins, bonus rounds and additional fun can be common in modern slots. These bonus features can help you win even more!
Progressive Slots – Progressive slots are the ones with jackpots that get bigger as more players wager. Their wagers are all added into the progressive jackpot and it will get bigger until it is won.
Why Do We Love Bingo Variants?
The idea of bingo variants has been around for a long time and players seem to love them. This can be because they enjoy bingo but want to try something new or because they just want to get their hands on a jackpot. We love these because bingo is our favourite game and the more ways there are to play it, the more fun we can have!
No Credit Card? Not a problem! Play & Win Bingo here. Click me!