Fluffy Favourites Slots
Fluffy Favourites is a cute, cuddly & profitable!
Paylines: 25
Bonus Rounds: Yes
Mobile: Yes
Free Spins: Yes
Multipliers: Yes
Progressive: Yes
Number of Reels: 5
Fluffy Favourites is a cute and cuddly online slot game that players can't seem to get enough of. This game will delight new players looking for some fun and cash building bonuses.
New bingo sites with Fluffy Favourites are cropping up all over the place as the game is so popular with players. With so many bingo sites with Fluffy Favourites players are spoilt for choice, if you need help deciding where to start playing brands on this page will get you off to a flying start.
Rules
Fluffy Favourites is so easy to learn how to play, so it won't take you long to get spinning and winning on this slot. All players need to decide is how many bet lines they'd like to play on, the more you play the higher chance you have of scoring a huge combo.
After that it's up to you how much you'd like to bet and then spin away then watch the coins rolling in. Bingo sites with Fluffy Favourites slots will have more in depth rules on the game so you can see exactly how to play.
Bonuses
If you're a jackpot hunter then you'll love this slot as its bonuses will see your bet growing with every combo. There are bonus rounds available in this game and as well as amazing additional features like free spins and a Toybox mini game.
The mini game is activated by having three claw symbols on the reels and it works exactly like a claw machine in an arcade. You'll need to grab one of the toys to multiply your stake, and this can give you up to 100 times your bet.
As for free spins, just remember to look out for the elephant symbol as three of these will give you 15 free games. If you're lucky enough to see four elephants you'll receive 20 free spins and if you're on safari and see five you'll get a massive 25 free games.
Tip: Keep your eyes peeled! There are several sites that offer no deposit slots, where you can play Fluffy Favs for free!
Strategy
As with any slot game it's ideal to keep your paylines high as this gives you the most chances to complete your combinations. We recommend a smaller bet with more lines so you don't have to break the bank, but you still have enough lines to see a return.
Design
The colour palette of this game is mainly pastel shades which keeps the game light and fluffy. It's not as flashy and modern as some other games out there but it's more relaxing and kitsch to play. If you're looking for a game that has more of a chilled out, bright feel then give this slot a go.
Tips
To succeed at this game you just need to collect up those bonuses, they come by frequently so if your bet lines are high you'll rake in the coins. When it comes to the bonus round it's all about chance but you can boost your odds by remembering which characters give the best multipliers. This way when the bonus round is next triggered you know which softie to aim for.
So there you have it! Choose any one of the bingo sites shown on this page and you're guaranteed a fab Fluffy Favs experience, with great bonuses and alternative payment options.
Play Fluffy Favourites Slots
You can also play this on:
Lucky Cow Bingo
Holy Cow! Join Lucky Cow Bingo, spin the wheel and win up to 500 free spins or free bingo tickets!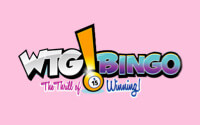 WTG Bingo
BIG jackpot prizes every single day!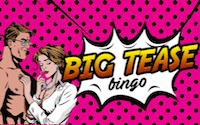 Big Tease Bingo
Unlock 25 free spins, free bingo & up to £200 in bonus funds! We're not teasing!